India on Monday banned 59 apps originating from China, including very popular ones like the short video platform TikTok, UC Browser, file sharing app ShareIt, and CamScanner, which allows iOS and Android devices to be used as image and document scanners.
What is the legal basis for India's action?
The ban has been enforced under Section 69A of the Information Technology Act, 2000. ("Power to issue directions for blocking for public access of any information through any computer resource)."
"Where the Central Government or any of its officers specially authorized by it is satisfied that it is necessary or expedient to do so, in the interest of sovereignty and integrity of India, defense of India, the security of the State, friendly relations with foreign states or public order or for preventing incitement to the commission of any cognizable offense relating to above, it may by order, direct any agency of the Government or intermediary to block for access by the public any information generated, transmitted, received, stored or hosted in any computer resource."
The Ministry of Information and Technology has said that "it has received many complaints from various sources including several reports about the misuse of some mobile apps for stealing and surreptitiously transmitting users' data in an unauthorized manner to servers which are located outside India". 
Since this "ultimately impinges upon the sovereignty and integrity of India, is a matter of very deep and immediate concern which requires emergency measures", it has said.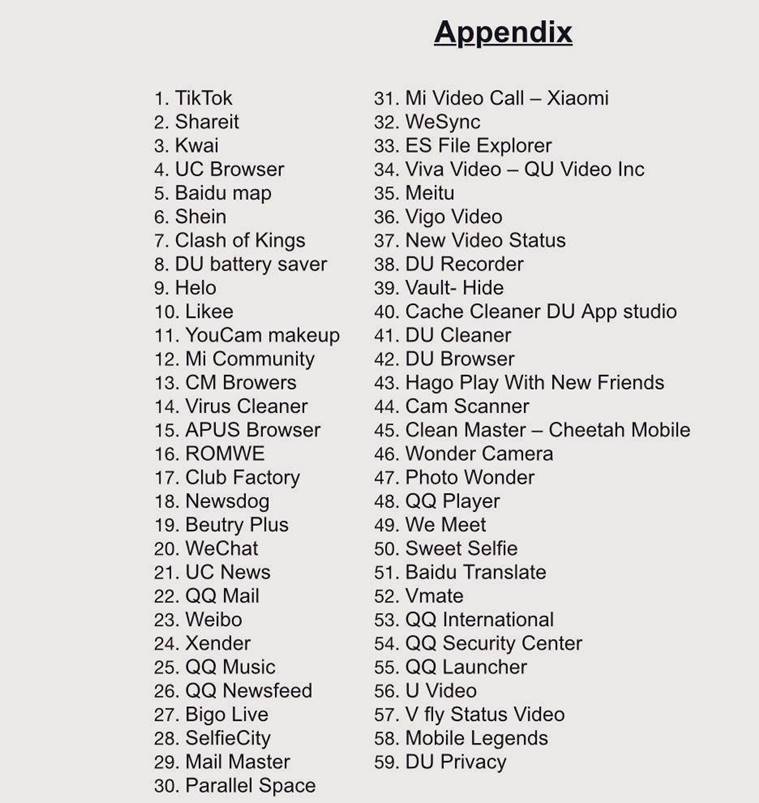 How will the ban be enforced?
The notification is expected to be followed by instructions to Internet service providers to block these apps. Users are will soon see a message, access to the apps has been restricted on the request of the government.
However, while this will impact apps like TikTok and UC News that need a live feed to serve any purpose. Users might still be able to continue using apps that don't need active internet connection while in use. But further downloads of these apps, like CamScanner, are likely to be blocked on Google's Play and Apple's App Store.
What will be the impact of the ban?
Some apps on the banned list are very popular in India, especially TikTok, which has over 100 million active users in the country, mainly in the heartland. New social media platforms like Helo, Likee, and video chat app Bigo Live, are immensely popular among Indians. These users will have to look for substitutes.
Also, most of these platforms have Indian creators, for many of whom this is the only source of income. Many of these apps have offices and employees in India, and a few thousand jobs could be at stake.
(with inputs from indianexpress)